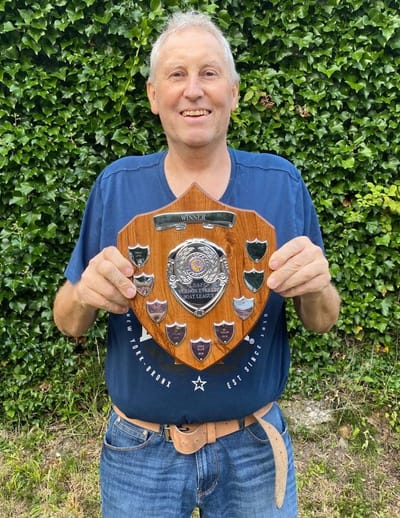 Match Boats Report for 2021.
The evening started with a persentation of a framed photograph of Vernon Everitt, who sadly lost his fight to cancer earlier this year. Vernon was the inspiration for starting the L&D.S.F.C. Bait Supplied Match League on his charter boat South Today. This has now successfully expanded to a three-boat match league, with twenty regular anglers fishing the series. The league would not be at this point without Vernon's support.
Well, what a year 2021 has been. A second year of restrictions due to Covid. I don't think it takes a lot to realise the importance of being part of an amazing club, to ensure great comradeship and mental health. Certainly, we are fortunate to have a great group of anglers in the Match Boat section who enjoy what we all do best. That is catching fish and having friendly banter, while improving our angling skills.
I would like to say a big thank you to Tom Bagnall from Christchurch Angling Centre for sponsoring the series and supplying the bait packs for another year. The series would not be possible without his support. A big thank you also to Robin Lane who ensured we have enough boats for the series. Robin's enthusiasm to ensure this series is maintained is second to none. Thank you also Alison and Richard Day for another amazing job this year processing all the results.
Six matches were fished between three ports, Weymouth, Lymington and Poole. A total of 3287 fish were caught over six matches, with forty species being landed. Everyone was a winner in this series as the standard of angling is second to none as we all learn together supporting each other.
Congratulations to this year's winner John bellamy for topping the table with 468%, then Paul Hollyoake in second place with 456%, closely followed by Ed Taylor with 454% for third. John certainly had the bitt between his teeth this year and fished a wonderful series.
Two records were broken this year, with Richard Day scoring an amazing 537 points during the last match from Weymouth, and Ed Taylor also breaking the most soecies caught on the same day with a total of 18 species.
The Species League optional pool was a very close-run competition, with John Bellamy winning with 30 species, closely followed by Chris Rogers and Ed Taylor with 29 species for second. Ben Daniel, Richard Day and Malcolm Stote came third with 28 species. A big well done to everyone who fished this series. Roll on 2022.
We are now booking boats for the 2022 series, so if you are interested, please book your place now.
Telephone Robin Lane 07876 471901 or Ed Taylor 07711 378984.
Vernon Everitt Match Boat League 2nd October.
This was the last match to determine who will win the Vernon Everitt Match Boat Series. The last of six matches was held at Weymouth where 18 club members boarded two charter boats, Supanova skippered by Lyle Stantiford and Aries skippered by Steve West. Weather conditions were not at all good with a strong south-westerly wind force 5 to 6 going on to 7. Before leaving port, we decided to prepare all the bait needed for the day which was mackerel, squid and ragworm. Heading into rough seas we both left for Portland Harbour. In the shelter of the outer harbour mackerel, pollack, herring, pouting, wrasse and gurnard were caught. Then the boats parted company and headed out into the rough seas. During the six hours both boats moved a number of times which resulted in a high number of species being recorded. Supanova totaled 24 while Aries total was 19. But at the end of the day, it all comes down to what individuals caught. On Supernova 1st Richard Day 16 species 587pts, 2nd Ed Taylor 17 species 512pts, 3rd Paul Hollyoake 506pts. On Aries 1st Martin Bobbett 12 species 359pts, 2nd Robin Lane 353pts, 3rd Andy Southwick 11 species 341pts.
Overall winner of The Match Boat League was John Bellamy with 468.67%.