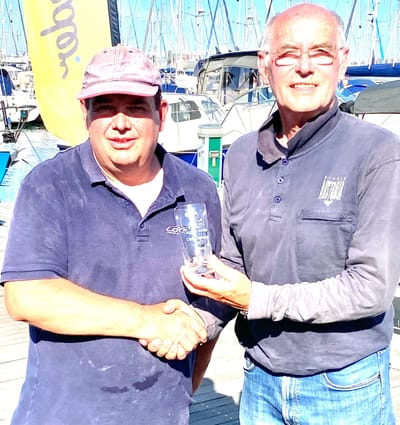 Gosport was the venue for the Wessex Angling Trust Open for 2022. John Bellamy and Ed Taylor represented Lymington & District Sea Fishing Club as both Match boat, and Large boat champions for 2021, competing for the honour to win the title of top Wessex club champion of champions.
This is still a bait supplied competition. The bait pack consisted of 6oz of ragworm, 1 lb squid and 3 frozen mackerel. On arrival we were told the species that we would possibly catch, which were tope, smoothhound, rays, congers, bream, pout, wrasse, dogfish and the occasional gurnard and bass.
With the hottest weekend weather forecast for this year, the catamarans set sail into beautiful blue skies to fish the eastern Solent. Although the weather gods were with us, on arrival to Bullocks Patch, it was quite apparent that fishing at anchor in a strong spring tide was going to be difficult with huge rafts of weed on the surface. A few bream were caught, but it wasn't long before a decision was made to fish inshore out of the tide and weed. Producing bream, smoothhounds, dogfish and the odd gurnard, at last we had a competition on our hands. As the tide slackened a move to Membury Bank upped the ante, as the larger fish began to feed, with congers of 18 lbs, smoothhounds of 14 lbs, plus a couple of small eyed rays being caught.
At slack water a few pout began to show in between the occasional bream, and a nice bonus 3 lb bass for Ed Taylor. Not the easiest of days fishing, but in the company of the quality of anglers it was a well fought match, with lots of banter to suit.
I am pleased to say that Ed Taylor retained the honour of winning the Champion of Champions for the second time, and 3rd place individual angler within the open competition, keeping the Lymington & District Fishing Club in the minds of all the other clubs within the Wessex Angling Trust region. This is a fantastic result of all the hard work that Robin Lane and Alec Harmer have put in over the years, maintaining the Match Boat League, Large boats, and the recreational boat trips.
The Photo:
Ed Taylor being presented with his trophy from the President of the Wessex Angling Trust Ray Ashby.