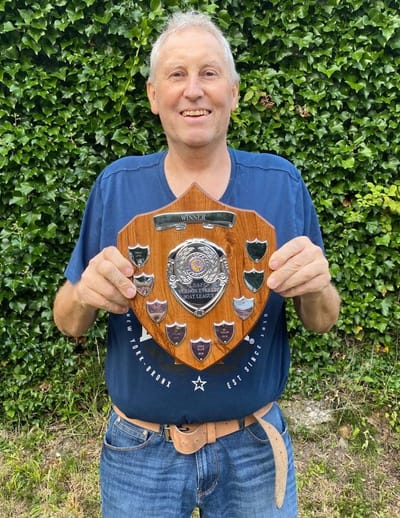 5th Vernon Everitt Match Boat League Series 4th September 2021.
On Saturday 4th September the club held its 5th competition out from Lymington. With good weather conditions 18 club members boarded 3 charter boats Voyager, Last laugh and Devocean. All the boats headed out of the Solent past Hurst Castle and headed to various marks around Christchurch Ledge looking for many species including wrasse, goby, tompot, bullhuss and pouting. After that we moved on to a plaice mark and finally went looking for even bigger fish including conger eels, rays, tope and dogfish.
Devocean found 20 different species Voyager had 19 with martin Bobbett catching 16 different species alone and Last laugh managed to find 17.
Notable fish caught on the day. Chris Rogers an undulate ray 13lbs. Martin Bobbett an undulate ray 12lbs 8oz and Richard Day a ballan wrasse 4lb 3oz.
Results by Boat.
Voyager:
1st Martin Bobbett 16 species 471pts, 2nd Chris Ellis 12 species 394pts, 3rd Chris Rogers 14 species 380pts, 4th Robin Lane 12 species 321pts, 5th Karl Bates 9 species 255pts, 6th Malcolm Gerrish 230pts.
Last Laugh:
1st Ben Daniel 10 species 303pts, 2nd Malcolm Stote 9 species 261pts, 3rd Paul Wilson 10 species 245pts, 4th Garth Smith 8 species 236pts, 5th Mark Boldick 7 species 170pts, 6th Andy Southwick 5 species 160pts.
Devocean:
1st Cliff Newbold 13species 361pts, 2nd Richard Day 12 species 350pts, 3rd Ed Taylor 13 species 345pts, 4th John Bellamy 9 species 271pts, 5th Marc Duncan 11 species 260pts, 6th Rod Giles 11 species 245pts.
4th Vernon Everitt Match Boat League Series 7th August 2021.
On Saturday 7th August the club held its 4th competition fishing out from Poole. With light winds eighteen club members boarded three charter boats which were "Mistress Linda" "Blue Duo" and "Boney M". All three headed out into Poole Bay where "Boney M" headed for a mark called The Half Bank. Here spotted and undulate rays, smoothhounds and dogfish were caught.
Meanwhile "Mistress Linda" and "Blue Duo" anchored on a rocky mark where wrasse, pouting, conger eels, mackerel and a number of mini species were caught. Sadly with the wind increasing all the boats returned to Poole Harbour to fish and here we were hampered by squally showers which made fishing difficult, but we still managed to catch plaice, bass, gurnards and flounders. In total twenty-eight different species of fish were caught between the three boats.
Results by Boat.
Mistress Linda
. 1st John Bellamy 12 species 396pts, 2nd Chris Rogers 13 species 363pts, 3rd Malcolm Stote 12 species 322pts,
4th Paul Hollyoake 11 species 279pts, 5th Ed Taylor 10 species 265pts, 6th Karl Bates 4 species 108pts.
Blue Duo
. 1st Richard day 13 species 425pts, 2nd Ben Daniel 11 species 361pts, 3rd Cliff Newbold 9 species 323pts, 4th Mark Boldich 8 species 225pts, 5th Garth Smith 5 species 166pts, 6th Andy Southwick 5 species 120pts.
Boney M
. 1st Rod Giles 8 species 320pts, 2nd Chris Ellis 9 species 313pts, 3rd Robin Lane 12 species 295pts, 4th Malcolm Gerrish 11 species 255pts, 5th Paul Wilson 6 species 181pts, 6thMarc Duncan 7 species 173pts.
3rd Vernon Everitt Match Boat League Series 17th July 2021.
On Saturday 17th July the club held its 3rd competition fishing out from Lymington. Eighteen club members boarded three charter boats in Lymington Haven Marina which were "Devocean", "Voyager" and "Last laugh". Weather conditions were ideal with a flat calm sea and sunshine. All the boats went out past Hurst Castle to various marks on the Shingle Bank to catch as many different species as possible in the allocated time of six hours. After six hours on the way back to port the scores were added up with each skipper hoping that their boat had landed the most species. Skipper Kevin Duell of "Voyager" was very pleased with 21 different species as was Kevin Sampson of "Devocean" who also had 21 and John Skeggs skipper of "Last Laugh" with 18 species. Over all on the three charter boats a total of 30 different species of fish were caught and all returned to the sea alive. Notable fish caught on the day and returned to the sea. Richard Day an undulate ray, Chris Ellis a ballan wrasse, Ed Taylor a bass, Paul Hollyoake a spotted ray, Cliff Newbold a plaice and John Bellamy a red gurnard.
Results by Boat.
Devocean
. 1st Malcolm Stote 11 species 349pts, 2nd Chris Ellis 10 species 302pts, 3rd Ben Daniel 11 species 296pts, 4th Ed Taylor 10 species 275pts, 5th Richard Day 9 species 217pts, 6th Mark Boldick 7 species 160pts.
Voyager.
1st Cliff Newbold 11 species 323pts, 2nd Robin Lane 13 species 313pts, 3rd Paul Hollyoake 12 species 295pts,
4th John Bellamy 11 species 294pts, 5th Garth Smith 10 species 238pts, 6th Andy Southwick 7 species 135pts.
Last Laugh.
1st Chris Rogers 13 species 376pts, 2nd Rod Giles 9 species 267pts, 3rd Malcolm Gerrish 7 species 196pts,
4th Paul Wilson 6 species 175pts, 5th Karl Bates 5 species 175pts, 6th Marc Duncan 5 species 130pts.