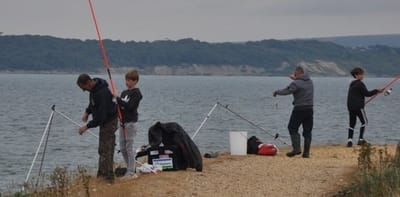 Shore Competitions are organised by Roland Blomfield. For more information please phone Roland on 01590-683363.
Shore competitions - These are fished Friday evenings and weekends. Shore competitions are free to enter except for the optional pools - optional pools are £1.00 each for the best round fish, best flat fish and this is given out on the night and there is an optional pool for the best specimen of 80%, this will roll over until won. The club supports the shore section with an annual top up of prize money. A weigh and return scheme is adopted on all shore competitions and we have club certificated scales on the beach and we run a measure and return league to encourage our anglers to replenish fish stocks for sustainability.
5th
Saturday 23rd April Rover.
6th
Friday 13th May White House & Paddy Gap.
7th
Friday 10th June Barton.
8th
Saturday 23rd July Solent Rd, Southbourne.
9th
Saturday 6th August Rover.
10th
Saturday 24th September Warren Edge.
11th
Friday 21st October Shingle Bank & White House.
12th
Saturday 19th November Poole, Sandbanks.
1st
Sunday 11th December Christmas Rover.
Shingle Bank League competitions are organised by Andy & Ollie Hopkins 01590-675088 and Terry Kempton 01590-675088.
Shingle Bank competitions - fished one match per month, mid-week. No league joining fee only competition fee paid on the night. The boundaries are from Hurst Castle and Backwaters to Camden Hurst car park at Hordle Cliff, ending at the steps nearest to the cafe, all fish caught are weighed in on this competition. Winner is the angler with the total weight for the year from all competitions fished. It is not necessary to fish every competition to win.
5th
Monday 11th April.
6th
Tuesday 24th May.
7th
Thursday 23rd June.
8th
Tuesday 5th July.
9th
Monday 22nd August.
10th
Tuesday 20th September.
11th
Thursday 14th October.
12th
3rd November.
1st
Thursday 1st December.
Win-Sum League competitions are organised by Colin Saunders on mobile 0780 2511 522.
Win-Sum League - this is a bait supplied, pegged beach league consisting of 8 competitions, with an entry fee of £48.00 and a match fee of £10.00 which includs optional pools for longest round and longest flat fish of the night. All competitions are held on a Wednesday evening.
These competitions are on a measure and return basis.2nd
27th April,
3rd
11th May,
4th
29th June,
5th
13th July,
6th
10th August,
7th
7th September,
8th
October. Bonus competition. TBA.