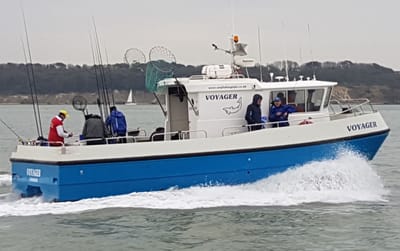 Recreational Week-end Trip 24th April.
On Saturday 24th April the club held a week-end fishing trip aboard Voyager out from Lymington skippered by Kevin Duell. The weather was not good with a force 4 -6 easterly wind, but we managed to fish the North Head buoy area. As the weather conditions got more uncomfortable, we moved closer in shore to fish for plaice, but sadly no luck so moved off Taddiford and still no plaice. Skipper Kevin was very helpful all day and fish caught included thornback rays, smoothhounds, dogfish and turbot.
Results: Tom Rutter 2 thornback rays 13lbs and 5lb plus 2 smoothhounds and 4 dogfish. Alan Rutter 1 smoothhound 5lb 8oz plus 1 dogfish. Mark Boldick a turbot 3lb 4oz. Nelson Phillips 1 dogfish. Harry Gray 1 dogfish. Karl Bates sadly blanked.